Aidasen Railroad
Last updated June 24, 2005. Scroll to bottom for latest photos.
Introduction
In autumn 2004, we moved to a new home and Shujinkousen was dismantled for good. At some point we'll be remodeling the basement and I'll be able to start work on another big layout, but in the meantime I've been building a small 2-1/2' x 5' (762mm x 1524mm) layout I call, "Aidasen".
While Shujinkousen was a large layout with a simple track plan (at least in schematic), Aidasen is a small but fairly complex layout. It has ten turnouts (compared to Shujinkousen's three), and despite the small layout size it has more than 25 feet of single-track mainline.
Photos
New photos get added at the bottom, so scroll down to see the latest updates.

Track schematic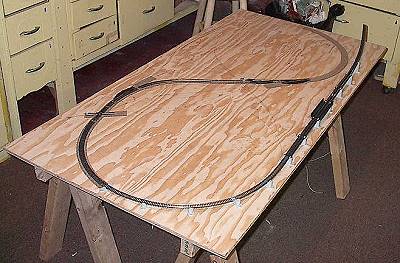 Getting started laying the track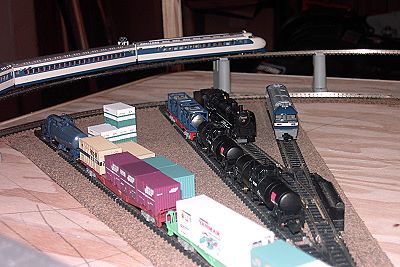 Container yard with container wagons, tanks, D51-498 (steam loco), and EF210 (electric loco). In the background, a 0-2000 series Shinkansen (bullet train) passes on the overhead track.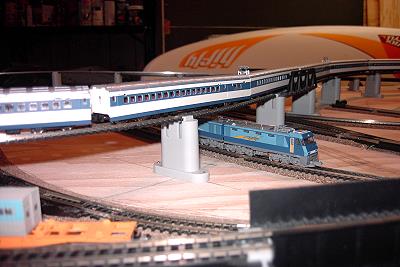 EH200 "Blue Thunder" electric loco on lower track; 0-2000 series Shinkansen on upper track.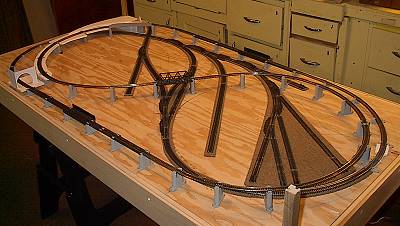 This shows the whole layout as I'm preparing to build the scenery. The track is all down. Note the distinctive circular tunnel portal, a common sight in Japan.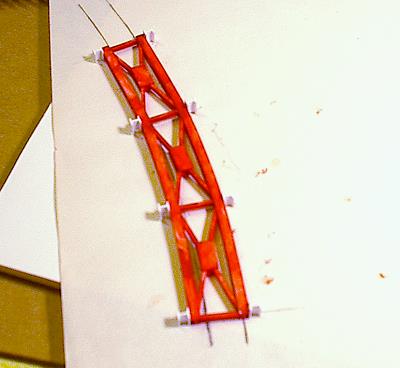 Girder bridge I'm scratchbuilding. In Japan, track structures are commonly painted in bright colors.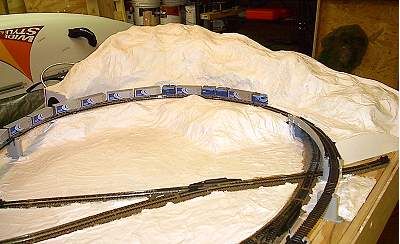 Overview of plaster shell mountains before painting. The train is the M250 "Super Rail Cargo" freight EMU.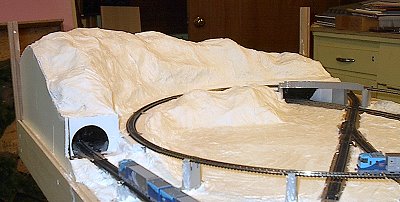 Another view of the mountains, showing the tunnel portal. Both ends of the M250 are visible.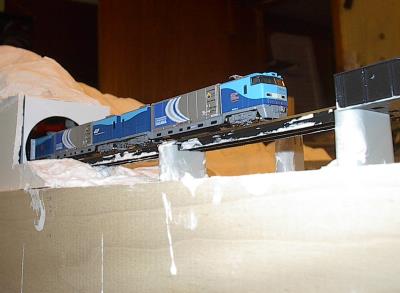 Close-up of the M250. This train, running in Japan since March 2004, is very unusual - a freight train that is not hauled by locomotives. It has motor cars at both ends, which are integrated with the train and carry containers, just like the rest of the train.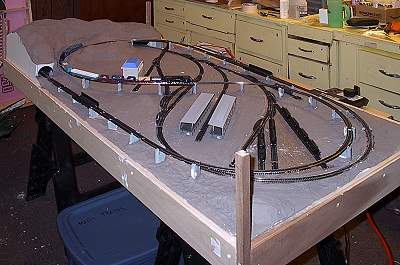 This shows the whole layout with the scenery shell built and painted. Texture, trees, and rocks have not been added yet. A few temporary buildings have been set down, but are not in their final locations.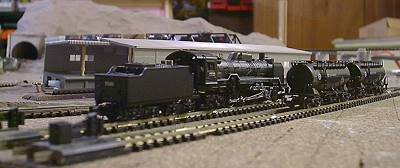 D51 498 sits in the freight yard near a couple of Hitachi Cement tank cars.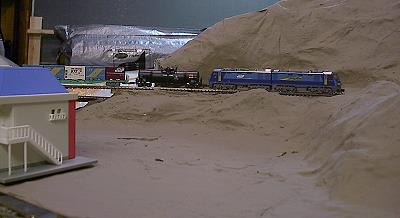 An EH200 "Blue Thunder" locomotive hauls a mixed freight into the mountain pass.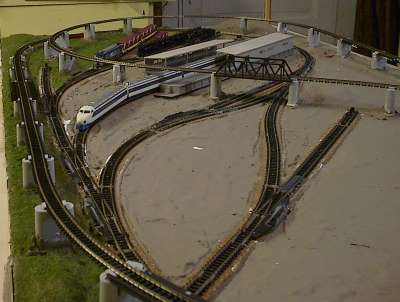 I've started "planting" the layout. Eventually, the whole thing will be green.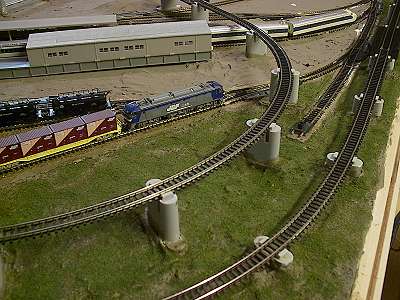 EF210 gets ready to exit the yard with a container train. Hitachi cement tankers are on the next track over, and a 0-2000 bullet train can be seen in the station.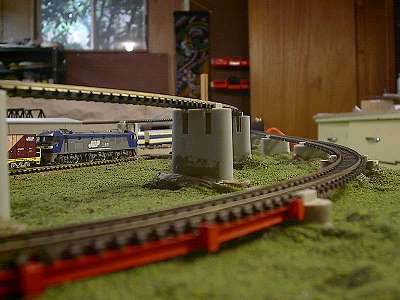 Another view of the EF210, from a low angle over tracks.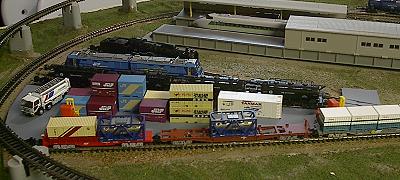 New container platform with flat cars in front, cement cars behind. Behind the cement cars, from front to rear, are EH200-3, D51-498, and 100-series Shinkansen set K57. The passenger station is just set there temporarily; eventually an engine house will go there.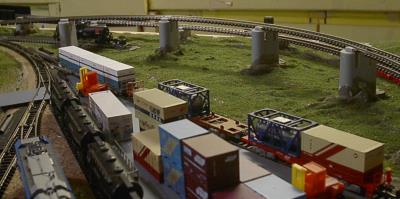 Another view of the container platform, looking over EH200-3 and the cement tankers.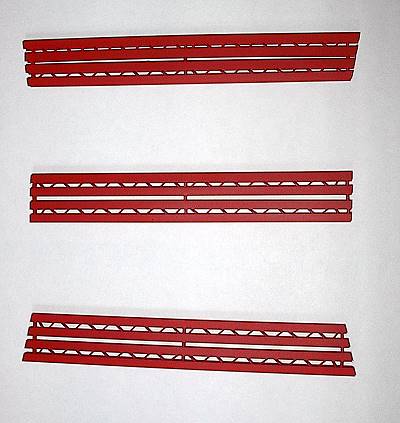 Three more scratch-built bridges. Each is made from 57 separate pieces (4 girders, 9 webs, and 44 braces).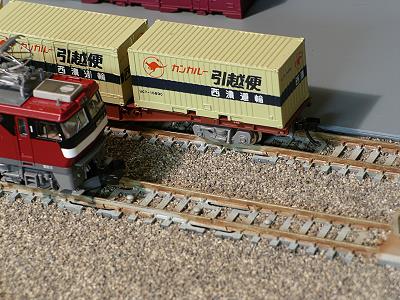 EH500-2 creeps into the yard alongside some container flats.
---