Shujinkousen Subroadbed
Photos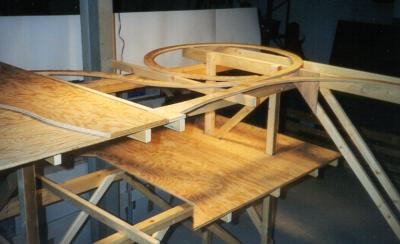 Cookie-cutter style subroadbed construction at Shujinkoumachi.
After all the pieces are cut out, they will be spliced together and supported by risers.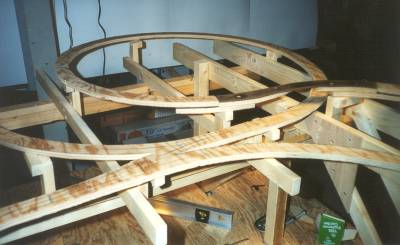 This circle will be hidden under the mountains near Shujinkoumachi.
The Masonite section increases clearance at overpass.
In the foreground, you can see a crossover.
Risers support the track, making it easy to precisely set grades.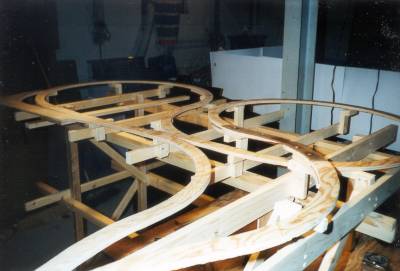 This is the completed subroadbed in Shujinkoumachi.
On the far left, you can see an extraneous corner section hanging off (not attached to the loop); this is where the helix down to the fiddle yard will connect.
This view is from behind the layout, looking over the mountain section.
---
Back to the Shujinkousen Railroad

Back to Azami's Hideout
---
This page written and maintained by Matthew Davis.
Last updated Tuesday, April 24, 2001.
To comment on my subroadbed construction, send e-mail to azami@speakeasy.net.