---
A few weeks ago, our friendly local liquor store owner / school landlord invited us to take a tour and tasting at a local sake brewery, Kikuzakari. It's a small brewery that has been in the same family for generations. The current president is the founder's great-great grandson, and he took us on the tour personally.
One thing that's obvious when you tour a sake brewery is that OSHA holds no sway here. Workplace safety is your own lookout. Even customers taking a tour are expected to look out for themselves, walking about in poor lighting on wet floors, stepping over the hoses and wires strewn everywhere.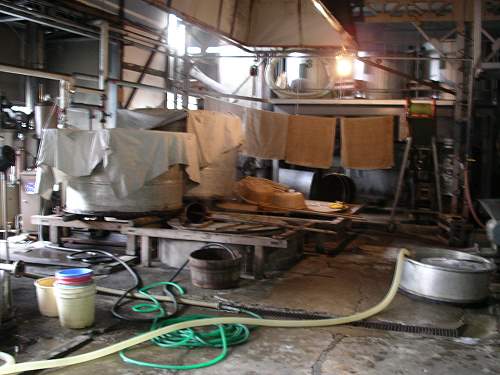 Of course, it was well worth it just to get to spend time surrounded by the yummy yeasty smell of brewing alcohol. It was heavenly. At one point we got to try the somewhat sweet and tart raw sake from a vat that was just about ready for filtering and bottling.
Being a small brewery, many tasks that would be done by machine at a large brewery are done by hand. The day we were there, this guy was gluing the labels to the bottles. It's not a very exciting job — grab a crate, wipe all the bottles clean, spread glue on a label, carefully line it up and press it in place, move on to the next bottle — but I guess somebody has to do it.