---
One of the main reasons our houseguests chose to visit us in the spring was the sakura ¡½
o-hanami
, or flower-viewing, is a big deal in Japan. The Japan Meteorological Association publishes "sakura forecasts" throughout the spring so that people can plan their
o-hanami
trips accordingly. Additionally, some organizations have ranked the "best sakura-viewing locations" throughout Japan; JR features
Tenshochi
on its posters as one of the three best places in northern Tohoku.
O-hanami
is about more than just looking at the flowers. Restaurants, civic groups, or just groups of friends plan picnics with lots of food and drink in prime blossom-viewing locations. This year, the blossoms came about two weeks early, so by the time our houseguests arrived, the sakura were mostly gone from Kitakami. Nevertheless, we joined the local Okinawan joint's
o-hanami
party in one of the last parks to have blossoms. The day itself was not optimal for picnicking under the remaining sakura, being all cold and gray. So we made plans to go to
Fukusenji
, a temple in nearby Tono, with some friends the following day.
At Fukusenji, we found the trees in full bloom. So did busloads of tourists from other parts of Japan.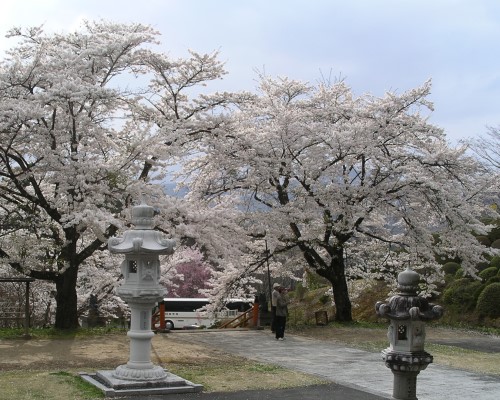 Many other trees were coming to life at the same time. On a small overlook, sakura and leafing
yamamomiji
(mountain maple) trees shared the view.