Shujinkousen Benchwork
Plan View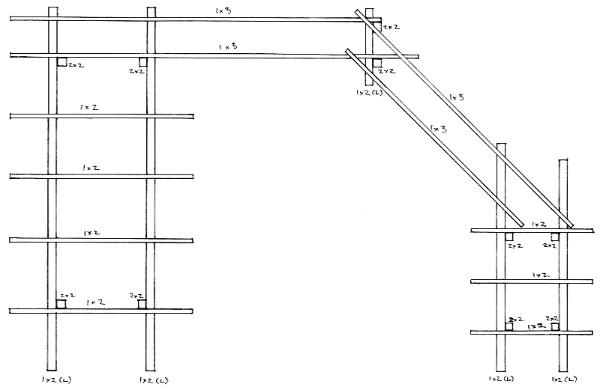 Shujinkoumachi (left) side is two layers on account of the under-layout fiddle yard.
Joists through the mountain area are 1x3 to support the longer spans (most joists are 1x2).
Leg braces have been omitted for clarity.
Isometric View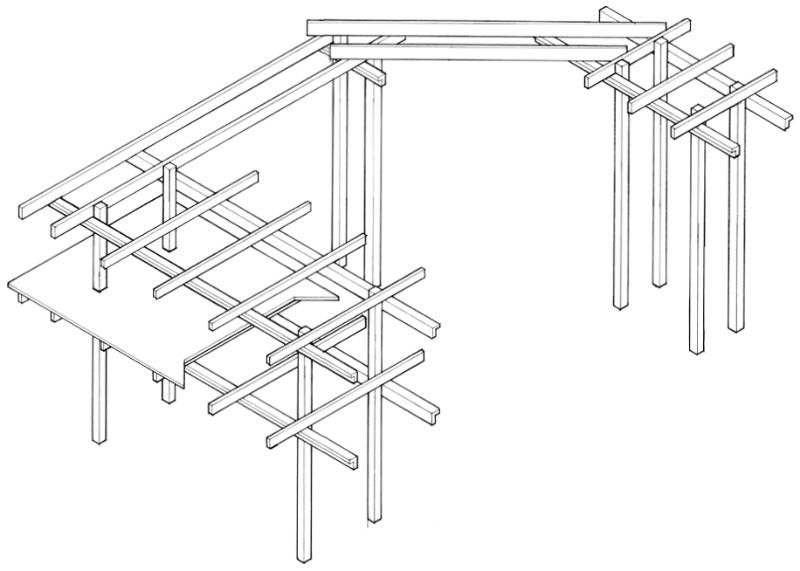 Leg braces have been omitted for clarity.
Photos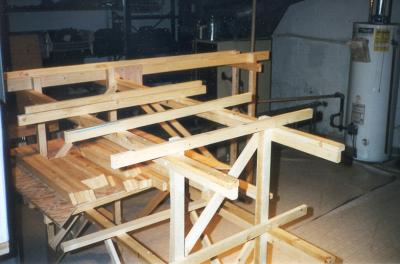 Benchwork is about half complete.
Shujinkoumachi is in the foreground.
The extension in the background is the southern half of the mountain pass.
The lower deck with all the cut wood stacked on it is where the fiddle yard will go. That's the wood for the rest of the benchwork.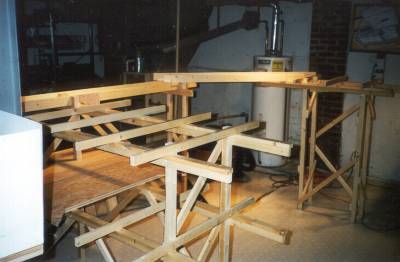 Benchwork is complete.
Shujinkoumachi is in the foreground.
In the background, you can see the mountain pass and Mokidate.
The construction technique and bracing make this benchwork very strong, even with the small dimension lumber. It easily supports my own weight!
The weakest point is the long span under the diagonal part of the mountains. The diagonal makes bracing much harder to install, and I found that I was frequently ducking under that portion to access the rear of the layout - so I left it open as a "duck under".
Many of the joists are not yet fastened down; they will be positioned and attached as needed to support the subroadbed.
The white obstruction in the left foreground of the photo is the back of the slot car layout.
---
Back to the Shujinkousen Railroad

Back to Azami's Hideout
---
This page written and maintained by Matthew Davis.
Last updated Tuesday, April 24, 2001.
To tell me how you would have designed the benchwork, send e-mail to azami@speakeasy.net.