Shujinkousen Track
Photos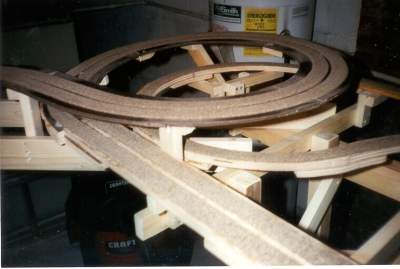 Cork roadbed is fastened to the subroadbed with carpenters' glue.
The upper track comes across in front of and curves back into a mountain.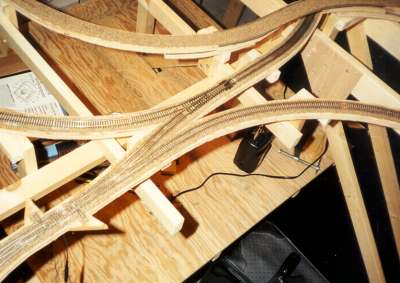 The turnouts in Shujinkoumachi
The reversing loop is to the left
The loop towards the top of the photo will be under a mountain; the tunnel entrance will be near the turnouts.
The triangular pieces in the lower left of the photo are subroadbed material I had to add to support the throw ties on the turnouts.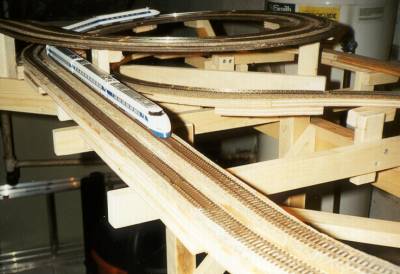 100-series shinkansen near Mokidate.
There will be a mountain from which it would be emerging.
Mokidate station will be in the foreground, just where the track curves.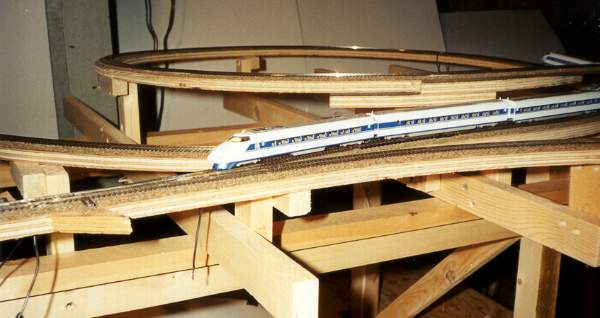 100-series shinkansen near Shujinkoumachi.
The unattached wire dangling under the track is connected to the frog of the turnout. It is not currently used, but is available for future use. Much easier to solder it to the bottom of the frog now than later!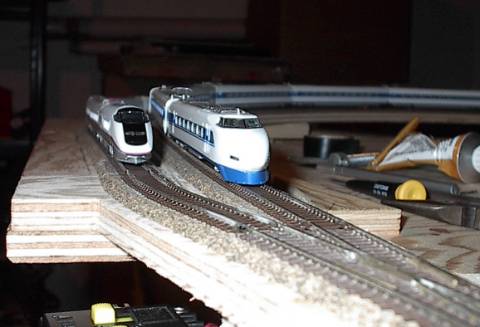 100-series and E3 shinkansen in Shujinkoumachi.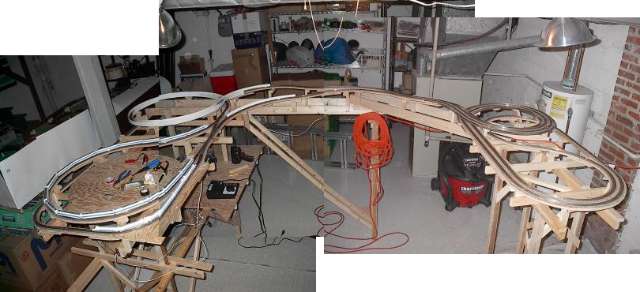 Overview of completed track.
Shujinkoumachi is to the left, Mokidate to the right.
Both trains are in Shujinkoumachi:

The 100-series is on the main loop, wrapped around on itself - it's the long one.
The shorter one on the stub track is the E3.

In the back of the layout, to the left, you can see some posterboard "walls" on the track. These keep the train from crashing to the floor in case of derailment. This area will be underneath a mountain when the scenery is completed.
---
Back to the Shujinkousen Railroad

Back to Azami's Hideout
---
This page written and maintained by Matthew Davis.
Last updated Saturday, November 17, 2001.
To comment on the track and trains, send e-mail to azami@speakeasy.net.