Shujinkousen Track Plan
The surface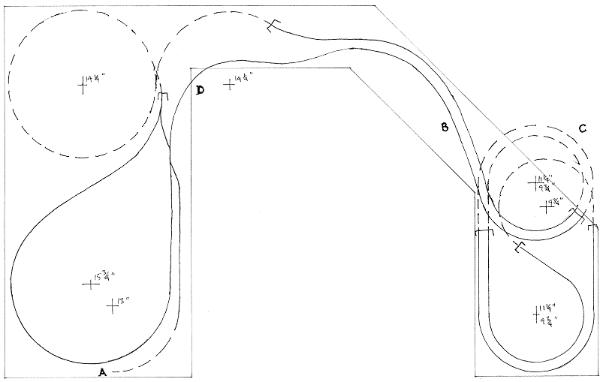 Shujinkoumachi is to the left, Mokidate is to the right.
Dashed lines indicate tunnels.
At "A", the spur track was intended to descend to the fiddle yard, see below. It was actually built to descend to a stub end just long enough to hold the entire 16-car 100 series (about 8', or 2.6m) train.
Somewhere near "B" there will be a high bridge over a gorge.
Note that at "C", the track actually goes behind the backdrop.
At "D", the southbound track (towards Shujinkoumachi) must descend fairly steeply to end up at the same level as the northbound track, which rises in a circle under the scenery.
Mikumaji is probably located in the mountains near "C".
The fiddle yard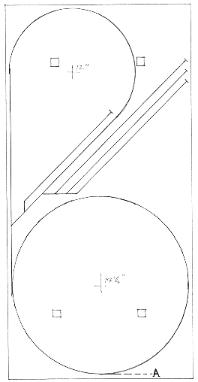 When it turned out the layout had to be moved, the underlayout fiddle yard idea was scrapped.
The track would have ascended to the surface at "A".
The small squares indicate where benchwork legs penetrate this level.
The big circle was going to be a deep helix to drop the track more than 12" with between 2% and 3% grade.
---
Back to the Shujinkousen Railroad

Back to Azami's Hideout
---
This page written and maintained by Matthew Davis.
Last updated Saturday, November 17, 2001.
To tell me how stupid it is to have only three turnouts on such a large layout, send e-mail to azami@speakeasy.net.