---
Traditionally, January 7 is a significant day in Japan. According to Shinto custom, adopted from ancient Chinese custom, January 7 is
jinjitsu
(person's day), a day when criminals are spared from punishment. More applicable to the general population, January 7 is also the day of
nanakusa no sekku
, the Festival of the Seven Herbs. People celebrate
nanakusa no sekku
by eating
nanakusa gayu
, rice porridge with seven herbs. It is believed that eating the seven herbs on this day will bring good health and longevity in the upcoming year. It is also believed that eating a light meal of rice porridge and herbs will help settle stomachs troubled by six days of indulging in sake, beer, and
osechi ryouri
.
There are seven herbs traditionally used in
nanakusa gayu
, although it seems that what actually gets used depends on what's available in each region. You can buy the traditional seven in packaged sets.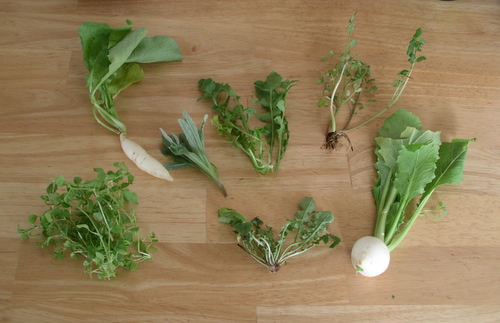 Clockwise from left, the seven herbs are
hakobera
(chickweed),
suzushiro
(daikon radish),
gogyou
(cudweed),
nazuna
(shepherd's purse),
seri
(water dropwort, or Japanese parsley),
suzuna
(turnip), and
hotokenoza
(nipplewort).
We followed the recipe on the package and put toasted mochi in ours, in addition to the herbs.