---
Amazake
is sweet, non-alcoholic, fermented rice. It's served in winter as a traditional hot drink. Nowadays, it's usually made by dissolving
kasu
— rice pulp filtered out during sake production — in hot water. But "real"
amazake
is not a by-product of sake production, it's its own fermented product.
Real
amazake
is less widely available than
kasu
in stores, but in my opinion, it's a vastly superior product. Although only a few grocery stores seem to have real
amazake
, many offer packages of moldy rice. Covered with the
koji
mold needed to make
amazake
(or
sake
, for that matter), it's used as a "starter" for making real
amazake
at home.
So, here's a close-up of the moldy rice we bought last week.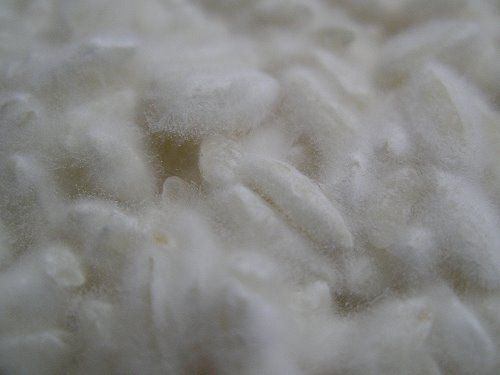 Making the
amazake
is fairly easy, but takes about 6 or 7 hours. In the end, it was worth it: some of the best
amazake
we've had!